Waiting On Tomorrow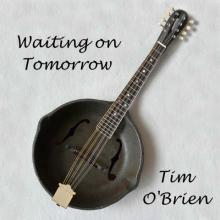 Waiting On Tomorrow
Lyrics:
Waiting On Tomorrow (Livin' Life Today)
©2012 Tim O'Brien, No Bad Ham Music / ASCAP
Chorus:
I'm waiting on tomorrow, livin' my life today
My hands and feet are restless since you went away
The damage has been done now, my heart and soul must pay
I'm waiting on tomorrow, livin' life today
I told you that I loved you but I showed you otherwise
I cheated on you darlin', I told so many lies
I watched you pack your bags yeah I saw you drive away
Now all my hopes and dreams belong to yesterday
Chorus
No answer to my letters, you don't return my call
I'm lookin' through the pictures that are hangin' there on the wall
The whiskey isn't workin' and I'm still missin' you
The bottle's almost empty, I don't know what I'll do
Chorus
The sun is comin' up now, it's time to try again
Wipe away the tears away and try to lift my chin
But one and one is two, and two and two's still four
It all adds up the same, you don't want me anymore
Chorus:
Credits:
Recorded November 25th 2014 at the Butcher Shoppe, Nashville
Engineer David Ferguson
Kenny Malone – percussion
Pat McLaughlin – acoustic guitar, harmony vocal
Dave Roe - bass
Song Notes:
One morning between Hot Rize tours I stopped by David Ferguson's studio when he was recording a few songs with the guys on this track. He asked me to join in and when he was done it still wasn't lunch time, so he asked if anybody had anything to sing, so I pulled out this one.
I met recording legend Kenny Malone about 1990 at a session in Nashville and have played a lot with him over the years. Bassist Dave Roe is another Nashville studio stalwart although I've rarely recorded with him. I met singer songwriter Pat McLaughlin around 1990 at a Maura O'Connell concert where we were having enough fun to get shushed by members of her reverent audience. All these guys are master groovers. Kenny is playing a customized djembe, and I'm playing Ferg's Harmony Rocket through his Magnatone amp.
I love the way Pat plays and sings this true down-in-the-dirt hillbilly blues. He's an underground hero. Don't miss a chance to hear him live. www.patmclaughlin.com
| | Catalog | | Buy Link(s) | |
| --- | --- | --- | --- | --- |
| | SOS-40 | The Polling Place | iTunes, Spotify | lyrics + more >> |
| | SOS-39 | Bluegrass Meadow | | lyrics + more >> |
| | SOS-38 | Poor Little Darlin' | Amazon, iTunes | lyrics + more >> |
| | SOS-37 | Sweet Georgia Brown | Amazon, iTunes | lyrics + more >> |
| | SOS-36 | John Henry | Amazon, iTunes | lyrics + more >> |
| | SOS-35 | Greensleeves | Amazon, iTunes | lyrics + more >> |
| | SOS-34 | When Women Get In Power | Amazon, iTunes | lyrics + more >> |
| | SOS-33 | I'll Still Write Your Name In The Sand | iTunes | lyrics + more >> |
| | SOS-32 | Three Thin Dimes | Amazon, iTunes | lyrics + more >> |
| | SOS-31 | The Drunkard's Walk | iTunes | lyrics + more >> |
| | SOS-30 | Mass Rock | Amazon, iTunes | lyrics + more >> |
| | SOS-29 | Money To Burn | Amazon, iTunes | lyrics + more >> |
| | SOS-28 | When Worlds Collide | | lyrics + more >> |
| | SOS-27 | Muswell Hillbilly | Amazon, iTunes | lyrics + more >> |
| | SOS-26 | Bright Sunny South | iTunes | lyrics + more >> |
| | SOS-25 | Origin Of Species | iTunes | lyrics + more >> |
| | SOS-24 | Fair And Tender Ladies | | lyrics + more >> |
| | SOS-23 | The Butterfly | Amazon, iTunes | lyrics + more >> |
| | SOS-22 | I'll Be Your Santa Baby | Amazon, iTunes | lyrics + more >> |
| | SOS-21 | Sporting Nell, My Sweetheart Jan | Amazon, iTunes | lyrics + more >> |
| | SOS-20 | The Quail Song | | lyrics + more >> |
| | SOS-19 | Rock The Cradle | Amazon, iTunes | lyrics + more >> |
| | SOS-18 | There'll Be No Distinction There | Amazon, iTunes | lyrics + more >> |
| | SOS-17 | Brother Can You Spare A Dime? | Amazon, iTunes | lyrics + more >> |
| | SOS-16 | Six Days On The Road | Amazon, iTunes | lyrics + more >> |
| | SOS-15 | Sleepy Eyed Joe | Amazon, iTunes | lyrics + more >> |
| | SOS-14 | At The Ball, That's All | iTunes, Amazon | lyrics + more >> |
| | SOS-13 | Jimmy Brown The Blues Boy | iTunes, Amazon | lyrics + more >> |
| | SOS-12 | Go Down To The Water | iTunes, Amazon | lyrics + more >> |
| | SOS-11 | Keith In A Palm Tree | iTunes, Amazon | lyrics + more >> |
| | SOS-10 | Careless Love | iTunes, Amazon | lyrics + more >> |
| | SOS-09 | The Farmer's Cursed Wife | iTunes, Amazon | lyrics + more >> |
| | SOS-08.1 | My Home Is Across The Blue Ridge Mountains | Amazon, iTunes | lyrics + more >> |
| | SOS-08 | Dance You Hippy Dance | iTunes, Amazon | lyrics + more >> |
| | SOS-07 | Sugar Hill | iTunes, Amazon | lyrics + more >> |
| | SOS-06 | The Tulips On The Table | iTunes, Amazon | lyrics + more >> |
| | SOS-05 | I Wish My Love Was A Red, Red Rose | iTunes, Amazon | lyrics + more >> |
| | SOS-04 | Waiting On Tomorrow | iTunes, Amazon | lyrics + more >> |
| | SOS-03 | Get Up Offa That Thing | iTunes, Amazon | lyrics + more >> |
| | SOS-02 | Ditty Boy Twang | iTunes, Amazon | lyrics + more >> |
| | SOS-01 | Brush My Teeth With Coca-Cola | iTunes, Amazon | lyrics + more >> |