The Tulips On The Table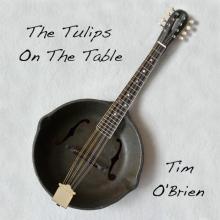 photo credit: Jan Fabricius
The Tulips On The Table
Lyrics
The Tulips On The Table by Dan Reeder / Weona Music o/b/o itself & Pleasant Company Publications / BMI
Tulips on the table mean that spring is on the way
The sun shines through the window like it hasn't shown in days
And lately you don't listen to a single thing I say
My baby don't love me anymore
Chorus:
My baby don't love me anymore
My baby don't love me anymore
My baby don't love me anymore
My baby don't love me anymore
I come home from work and you say it's nice to see you
I take off my jacket and say, "Nice to see you too."
But I can't help but notice you hate everything I do
My baby don't love me anymore
Chorus
The kids are at your folks this weekend, it's just you and me
We can do anything we want, we're as free as we can be
But we can't seem to pick a movie we both want to see
My baby don't love me anymore
Chorus
Credits:
Recorded March 27th 2014 at my house
Engineer Sean Sullivan
Tim O'Brien – vocal and banjo
Samson Grisman – bass
Nathaniel Smith – cello
Jan Fabricius – harmony vocal
Mixed by David Ferguson at the Butcher Shoppe
Song Notes:
Thanks to John Prine, Al Bunetta and Oh Boy Records', Dan Reeder's first recording came out on my 50th birthday. By the time I turned 51, I'd learned several of the songs without ever trying. I'm listening to Dan's third release – This New Century - right now. His homemade productions and quirky observations on modern life make me smile on grey days. Dan grew up in Louisiana and California but has lived and worked in Germany since 1979.
Al Bunetta, who managed both John Prine and the late Steve Goodman, passed away suddenly on March 22nd, 2015. Steve was an early hero and supporter of mine, and Al and John have also been very kind to me over the years. I'm lucky to know them all. Al - wherever you are - thanks for driving me home that time. You said I'd had too much to drink and you were probably right.
This track comes from the very first session dedicated to the Short Order Sessions. I set up a few mics in my music room, invited Samson and Nat over, and had Sean twist the dials on my converted wet-bar mixing console, perhaps the only recording desk in Nashville with a sink. I only have four inputs on my baby Pro Tools rig, so Jan sang her perfect part on the same mic with me.
The Tulips On the Table - Single by Tim O'Brien
https://itunes.apple.com/us/album/the-tulips-on-the-table-single/id98365...
http://www.amazon.com/dp/B00VTZLC98/ref=dm_ws_tlw_trk1
| | Catalog | | Buy Link(s) | |
| --- | --- | --- | --- | --- |
| | SOS-40 | The Polling Place | iTunes, Spotify | lyrics + more >> |
| | SOS-39 | Bluegrass Meadow | | lyrics + more >> |
| | SOS-38 | Poor Little Darlin' | Amazon, iTunes | lyrics + more >> |
| | SOS-37 | Sweet Georgia Brown | Amazon, iTunes | lyrics + more >> |
| | SOS-36 | John Henry | Amazon, iTunes | lyrics + more >> |
| | SOS-35 | Greensleeves | Amazon, iTunes | lyrics + more >> |
| | SOS-34 | When Women Get In Power | Amazon, iTunes | lyrics + more >> |
| | SOS-33 | I'll Still Write Your Name In The Sand | iTunes | lyrics + more >> |
| | SOS-32 | Three Thin Dimes | Amazon, iTunes | lyrics + more >> |
| | SOS-31 | The Drunkard's Walk | iTunes | lyrics + more >> |
| | SOS-30 | Mass Rock | Amazon, iTunes | lyrics + more >> |
| | SOS-29 | Money To Burn | Amazon, iTunes | lyrics + more >> |
| | SOS-28 | When Worlds Collide | | lyrics + more >> |
| | SOS-27 | Muswell Hillbilly | Amazon, iTunes | lyrics + more >> |
| | SOS-26 | Bright Sunny South | iTunes | lyrics + more >> |
| | SOS-25 | Origin Of Species | iTunes | lyrics + more >> |
| | SOS-24 | Fair And Tender Ladies | | lyrics + more >> |
| | SOS-23 | The Butterfly | Amazon, iTunes | lyrics + more >> |
| | SOS-22 | I'll Be Your Santa Baby | Amazon, iTunes | lyrics + more >> |
| | SOS-21 | Sporting Nell, My Sweetheart Jan | Amazon, iTunes | lyrics + more >> |
| | SOS-20 | The Quail Song | | lyrics + more >> |
| | SOS-19 | Rock The Cradle | Amazon, iTunes | lyrics + more >> |
| | SOS-18 | There'll Be No Distinction There | Amazon, iTunes | lyrics + more >> |
| | SOS-17 | Brother Can You Spare A Dime? | Amazon, iTunes | lyrics + more >> |
| | SOS-16 | Six Days On The Road | Amazon, iTunes | lyrics + more >> |
| | SOS-15 | Sleepy Eyed Joe | Amazon, iTunes | lyrics + more >> |
| | SOS-14 | At The Ball, That's All | iTunes, Amazon | lyrics + more >> |
| | SOS-13 | Jimmy Brown The Blues Boy | iTunes, Amazon | lyrics + more >> |
| | SOS-12 | Go Down To The Water | iTunes, Amazon | lyrics + more >> |
| | SOS-11 | Keith In A Palm Tree | iTunes, Amazon | lyrics + more >> |
| | SOS-10 | Careless Love | iTunes, Amazon | lyrics + more >> |
| | SOS-09 | The Farmer's Cursed Wife | iTunes, Amazon | lyrics + more >> |
| | SOS-08.1 | My Home Is Across The Blue Ridge Mountains | Amazon, iTunes | lyrics + more >> |
| | SOS-08 | Dance You Hippy Dance | iTunes, Amazon | lyrics + more >> |
| | SOS-07 | Sugar Hill | iTunes, Amazon | lyrics + more >> |
| | SOS-06 | The Tulips On The Table | iTunes, Amazon | lyrics + more >> |
| | SOS-05 | I Wish My Love Was A Red, Red Rose | iTunes, Amazon | lyrics + more >> |
| | SOS-04 | Waiting On Tomorrow | iTunes, Amazon | lyrics + more >> |
| | SOS-03 | Get Up Offa That Thing | iTunes, Amazon | lyrics + more >> |
| | SOS-02 | Ditty Boy Twang | iTunes, Amazon | lyrics + more >> |
| | SOS-01 | Brush My Teeth With Coca-Cola | iTunes, Amazon | lyrics + more >> |