Go Down To The Water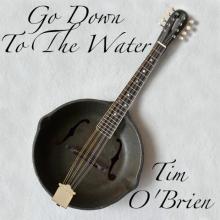 Go Down To The Water
Lyrics:
Go Down To The Water - Words by Woody Guthrie, music by Billy Bragg / Woody Guthrie Publications, Inc./ BMG Songs / BMI
Go down to the water where the oil floats by
Drop your hair down and cry
Write with your finger there in the sand
Mail it out with the tide
Mail it out with the high and the low
Watch the marks there in the sand
Listen to the fog on the homeless waves
Feel the salt sea in your hands
Smell the sea wind, taste it on your lips
That foam that rolls over my lost ships
Write the letter once more in the sand
Where the breakers dip and the undertow slips
Kneel down and feel there at the water's edge
Write our names there side by side
Look and listen to all those ships
That toss in the fog and in the tide
You can let down your hair when you kneel down there
Let me be the wind that pulls you hair
You be the man you made out of sand
And let your hands keep makin' him there
When nobody's lookin' kiss your hand
Touch to the nose of your man in the sand
And lay down with your head there on his chest
Be nice be nice to your man in the sand
Credits:
Recorded March 28, 2013 at the Butcher Shoppe, Nashville
Engineered by David Ferguson
Tim O'Brien – banjo, fiddle, electric guitar and vocal
Gerry Paul – guitar
Trevor Hutchinson – bass
John Gardner – drums
Jan Fabricius – harmony vocal
Jim Hoke – clarinet
Song notes:
It hard to imagine modern folk music without the influence of Woody Guthrie, the Dust Bowl Balladeer from Okemah OK. Celebrate Woody Guthrie's 103rd birthday on July 14 by singing or playing his fine songs. I recommend a visit to both the annual Woody Guthrie festival held each July in Okemah, and to the new Woody Guthrie Archives in Tulsa OK.
In 1945, Woody sent this beautiful letter/poem to Nora's mother Marjorie and their daughter Cathy, then two and a half years of age. When Woody was home, the three often went to the beach near their Coney Island apartment, and by this time Woody had been to sea several times with the Merchant Marine. The words suggest a way for the three of them to be together when he was away. Many years later, the family scattered Woody's ashes at the same beach, and they still visit there with their "man in the sand".
Go Down To The Water is one of many Woody lyrics that had no known music until his daughter Nora started making them available to various artists around 1997. English singer Billy Bragg, like Guthrie, a friend to the common man, grafted this lyric to the melody of the traditional Irish ballad She Moves Through The Fair for the wonderful Mermaid Avenue recordings. It fits well on the clawhammer banjo, and I love to sing it with Jan.
| | Catalog | | Buy Link(s) | |
| --- | --- | --- | --- | --- |
| | SOS-40 | The Polling Place | iTunes, Spotify | lyrics + more >> |
| | SOS-39 | Bluegrass Meadow | | lyrics + more >> |
| | SOS-38 | Poor Little Darlin' | Amazon, iTunes | lyrics + more >> |
| | SOS-37 | Sweet Georgia Brown | Amazon, iTunes | lyrics + more >> |
| | SOS-36 | John Henry | Amazon, iTunes | lyrics + more >> |
| | SOS-35 | Greensleeves | Amazon, iTunes | lyrics + more >> |
| | SOS-34 | When Women Get In Power | Amazon, iTunes | lyrics + more >> |
| | SOS-33 | I'll Still Write Your Name In The Sand | iTunes | lyrics + more >> |
| | SOS-32 | Three Thin Dimes | Amazon, iTunes | lyrics + more >> |
| | SOS-31 | The Drunkard's Walk | iTunes | lyrics + more >> |
| | SOS-30 | Mass Rock | Amazon, iTunes | lyrics + more >> |
| | SOS-29 | Money To Burn | Amazon, iTunes | lyrics + more >> |
| | SOS-28 | When Worlds Collide | | lyrics + more >> |
| | SOS-27 | Muswell Hillbilly | Amazon, iTunes | lyrics + more >> |
| | SOS-26 | Bright Sunny South | iTunes | lyrics + more >> |
| | SOS-25 | Origin Of Species | iTunes | lyrics + more >> |
| | SOS-24 | Fair And Tender Ladies | | lyrics + more >> |
| | SOS-23 | The Butterfly | Amazon, iTunes | lyrics + more >> |
| | SOS-22 | I'll Be Your Santa Baby | Amazon, iTunes | lyrics + more >> |
| | SOS-21 | Sporting Nell, My Sweetheart Jan | Amazon, iTunes | lyrics + more >> |
| | SOS-20 | The Quail Song | | lyrics + more >> |
| | SOS-19 | Rock The Cradle | Amazon, iTunes | lyrics + more >> |
| | SOS-18 | There'll Be No Distinction There | Amazon, iTunes | lyrics + more >> |
| | SOS-17 | Brother Can You Spare A Dime? | Amazon, iTunes | lyrics + more >> |
| | SOS-16 | Six Days On The Road | Amazon, iTunes | lyrics + more >> |
| | SOS-15 | Sleepy Eyed Joe | Amazon, iTunes | lyrics + more >> |
| | SOS-14 | At The Ball, That's All | iTunes, Amazon | lyrics + more >> |
| | SOS-13 | Jimmy Brown The Blues Boy | iTunes, Amazon | lyrics + more >> |
| | SOS-12 | Go Down To The Water | iTunes, Amazon | lyrics + more >> |
| | SOS-11 | Keith In A Palm Tree | iTunes, Amazon | lyrics + more >> |
| | SOS-10 | Careless Love | iTunes, Amazon | lyrics + more >> |
| | SOS-09 | The Farmer's Cursed Wife | iTunes, Amazon | lyrics + more >> |
| | SOS-08.1 | My Home Is Across The Blue Ridge Mountains | Amazon, iTunes | lyrics + more >> |
| | SOS-08 | Dance You Hippy Dance | iTunes, Amazon | lyrics + more >> |
| | SOS-07 | Sugar Hill | iTunes, Amazon | lyrics + more >> |
| | SOS-06 | The Tulips On The Table | iTunes, Amazon | lyrics + more >> |
| | SOS-05 | I Wish My Love Was A Red, Red Rose | iTunes, Amazon | lyrics + more >> |
| | SOS-04 | Waiting On Tomorrow | iTunes, Amazon | lyrics + more >> |
| | SOS-03 | Get Up Offa That Thing | iTunes, Amazon | lyrics + more >> |
| | SOS-02 | Ditty Boy Twang | iTunes, Amazon | lyrics + more >> |
| | SOS-01 | Brush My Teeth With Coca-Cola | iTunes, Amazon | lyrics + more >> |