Sweet Georgia Brown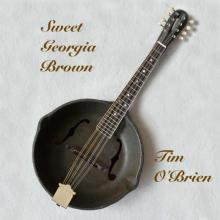 Sweet Georgia Brown
Release date 2/17/2017Sweet Georgia Brown
Sweet Georgia Brown by Maceo Pinkard / Warner Brothers Inc / ASCAP
Credits:
Recorded by Dave Ferguson at the Butcher Shoppe December 7th, 2016
David Grier guitar, Tim O'Brien mandolin and vocal
Song Notes:
I love how David Grier plays the guitar. And I love the man, and his beard. Go buy some of his recordings. This is actually one of them!
Sweet Georgia Brown was a number one hit in 1925. As an instrumental, it's a welcome change of pace in a bluegrass jam, and it might be the first jazz tune I ever learned. After playing it for forty years, I found out that it's composer, Maceo Pinkard, came from my home state of West Virginia. It's just one thread of the continuing education I've gotten by working with the West Virginia Music Hall of Fame. Maceo Pinkard, born in Bluefield WV in 1897, wrote his first hit song I'm Goin Back Home in 1915, and was the first African American to own a music publishing company. He was also a pioneer of what came to be called musical theater, writing the book for the all-black cast of Liza in 1922. Billie Holiday recorded his song Them There Eyes in 1939.
Have you ever seen the exhibit of Hatch Show Print posters on the A concourse of the Nashville airport? The poster for Silas Green from New Orleans always stuck out to me and I often wondered who was this Silas Green that he got his very own poster. Then after five years or so I found out this was a black owned traveling tent show, and that its annual tours in the early 1900's always drew large crowds in the West Virginia coalfields. Similar tent shows and circus companies featured raucous sideshow bands, incubators for young musicians who were collectively developing what became known as jazz.
Again, putting this stuff together in my head after a while, I now understand why West Virginia's Frank Hutchison was the first white man to record a country blues, and why a lot of jazz musicians came out of the state. It's because the coal fields and the railroads running through them provided jobs for both African Americans and poor whites since the days of John Henry, and that lasted a good long while, with coal booms around both world wars. Maceo Pinkard graduated from Bluefield Colored Institute in 1914, and I can imagine him studying music there by day and being inspired by the Silas Green or the Rabbit Foot Minstrels band under canvas at night.
| | Catalog | | Buy Link(s) | |
| --- | --- | --- | --- | --- |
| | SOS-40 | The Polling Place | iTunes, Spotify | lyrics + more >> |
| | SOS-39 | Bluegrass Meadow | | lyrics + more >> |
| | SOS-38 | Poor Little Darlin' | Amazon, iTunes | lyrics + more >> |
| | SOS-37 | Sweet Georgia Brown | Amazon, iTunes | lyrics + more >> |
| | SOS-36 | John Henry | Amazon, iTunes | lyrics + more >> |
| | SOS-35 | Greensleeves | Amazon, iTunes | lyrics + more >> |
| | SOS-34 | When Women Get In Power | Amazon, iTunes | lyrics + more >> |
| | SOS-33 | I'll Still Write Your Name In The Sand | iTunes | lyrics + more >> |
| | SOS-32 | Three Thin Dimes | Amazon, iTunes | lyrics + more >> |
| | SOS-31 | The Drunkard's Walk | iTunes | lyrics + more >> |
| | SOS-30 | Mass Rock | Amazon, iTunes | lyrics + more >> |
| | SOS-29 | Money To Burn | Amazon, iTunes | lyrics + more >> |
| | SOS-28 | When Worlds Collide | | lyrics + more >> |
| | SOS-27 | Muswell Hillbilly | Amazon, iTunes | lyrics + more >> |
| | SOS-26 | Bright Sunny South | iTunes | lyrics + more >> |
| | SOS-25 | Origin Of Species | iTunes | lyrics + more >> |
| | SOS-24 | Fair And Tender Ladies | | lyrics + more >> |
| | SOS-23 | The Butterfly | Amazon, iTunes | lyrics + more >> |
| | SOS-22 | I'll Be Your Santa Baby | Amazon, iTunes | lyrics + more >> |
| | SOS-21 | Sporting Nell, My Sweetheart Jan | Amazon, iTunes | lyrics + more >> |
| | SOS-20 | The Quail Song | | lyrics + more >> |
| | SOS-19 | Rock The Cradle | Amazon, iTunes | lyrics + more >> |
| | SOS-18 | There'll Be No Distinction There | Amazon, iTunes | lyrics + more >> |
| | SOS-17 | Brother Can You Spare A Dime? | Amazon, iTunes | lyrics + more >> |
| | SOS-16 | Six Days On The Road | Amazon, iTunes | lyrics + more >> |
| | SOS-15 | Sleepy Eyed Joe | Amazon, iTunes | lyrics + more >> |
| | SOS-14 | At The Ball, That's All | iTunes, Amazon | lyrics + more >> |
| | SOS-13 | Jimmy Brown The Blues Boy | iTunes, Amazon | lyrics + more >> |
| | SOS-12 | Go Down To The Water | iTunes, Amazon | lyrics + more >> |
| | SOS-11 | Keith In A Palm Tree | iTunes, Amazon | lyrics + more >> |
| | SOS-10 | Careless Love | iTunes, Amazon | lyrics + more >> |
| | SOS-09 | The Farmer's Cursed Wife | iTunes, Amazon | lyrics + more >> |
| | SOS-08.1 | My Home Is Across The Blue Ridge Mountains | Amazon, iTunes | lyrics + more >> |
| | SOS-08 | Dance You Hippy Dance | iTunes, Amazon | lyrics + more >> |
| | SOS-07 | Sugar Hill | iTunes, Amazon | lyrics + more >> |
| | SOS-06 | The Tulips On The Table | iTunes, Amazon | lyrics + more >> |
| | SOS-05 | I Wish My Love Was A Red, Red Rose | iTunes, Amazon | lyrics + more >> |
| | SOS-04 | Waiting On Tomorrow | iTunes, Amazon | lyrics + more >> |
| | SOS-03 | Get Up Offa That Thing | iTunes, Amazon | lyrics + more >> |
| | SOS-02 | Ditty Boy Twang | iTunes, Amazon | lyrics + more >> |
| | SOS-01 | Brush My Teeth With Coca-Cola | iTunes, Amazon | lyrics + more >> |