Bluegrass Meadow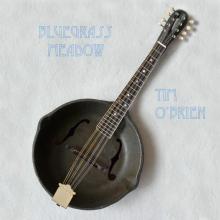 SOS # 39 Bluegrass Meadow
Release date 04/14/17
Publishing:
Bluegrass Meadow by Ed Haley / Done Gone Publishing / Admin by BMG / BMI
Credits:
Recorded November 10th 2017 at the Butcher Shoppe in Nashville
Engineered and mixed by David Ferguson
Mike Bub – bass, Stuart Duncan – guitar, Noam Pikelny – banjo, Tim O'Brien - fiddle
Song notes:
Music saved my life. I've read that sentence many times over the years and believe it to be true in very many cases. Ed Haley was blind and then orphaned by the age of six, which makes his seemingly happy circumstances remarkable. In spite of these setbacks, Ed became a master musician, developing his own distinctive sound and style, and influencing countless other players during his lifetime and beyond. Born August 16, 1885 in Logan County WV, he was raised by his family and friends, eventually marrying another blind musician Martha Ella Trumbo, and raising six children of his own. Ed and Martha Ella got around by train and riverboat, and played for audiences in West Virginia, Kentucky and Ohio. Never recording commercially, Ed nevertheless made home recordings later in life, many of which have been reissued by Rounder Records. Haley died in 1951 in Ashland KY.
I first heard the name Ed Haley back in about 1976, just after Rounder issued an LP of some of his recordings. My friend Greg Dearth was then playing fiddle with the Hutchison Brothers and learning Ed's tunes. Later John Hartford took an interest in Haley's music and his lore, and helped Rounder release two more sets of his recordings in the late 1990's. Some of the recordings are better sound quality than others, but fiddle geeks like Dearth, Hartford, and I are more than happy to pick out the fine music behind the surface noise. The Center for Popular Music in Murfreesboro TN is currently working on yet another compilation of Haley's music.
Yes, I'm a hopeless fiddle geek. John Hartford was right when he said that banjo will get you through times of no money a lot better than money gets you through times of no banjo. And you can easily substitute "fiddle" for "banjo". For many years I would take a weekend off from touring to attend a fiddle convention at Mount Airy, NC or Clifftop, WV to play and learn more tunes. The music was originally made for dancing, but it's become much more than that for the hard-core fans who collect tunes sorta like stamp collectors assemble their collections. While the tunes make for good listening, a lot of us get our main reward from playing them. Old time musicians think of each tune as a particular meditation, or mantra, and the social aspect of playing old time string band music allows for several mantras to be repeated over and over for several minutes each at jam sessions all around this planet. When the drool starts dripping out of both sides of our mouths, you know we're in that zone! I still reach for the fiddle in quiet hours around home, and Jan and I keep learning new old time tunes, playing them mostly for own enjoyment. It's hard to recreate Ed Haley's swing on this piece, but I enjoyed trying on this track featuring Noam Pikelny on banjo, Mike Bub on bass, and my favorite living fiddler Stuart Duncan on guitar. I hope our version nudges you to listen to Ed himself.
| | Catalog | | Buy Link(s) | |
| --- | --- | --- | --- | --- |
| | SOS-40 | The Polling Place | iTunes, Spotify | lyrics + more >> |
| | SOS-39 | Bluegrass Meadow | | lyrics + more >> |
| | SOS-38 | Poor Little Darlin' | Amazon, iTunes | lyrics + more >> |
| | SOS-37 | Sweet Georgia Brown | Amazon, iTunes | lyrics + more >> |
| | SOS-36 | John Henry | Amazon, iTunes | lyrics + more >> |
| | SOS-35 | Greensleeves | Amazon, iTunes | lyrics + more >> |
| | SOS-34 | When Women Get In Power | Amazon, iTunes | lyrics + more >> |
| | SOS-33 | I'll Still Write Your Name In The Sand | iTunes | lyrics + more >> |
| | SOS-32 | Three Thin Dimes | Amazon, iTunes | lyrics + more >> |
| | SOS-31 | The Drunkard's Walk | iTunes | lyrics + more >> |
| | SOS-30 | Mass Rock | Amazon, iTunes | lyrics + more >> |
| | SOS-29 | Money To Burn | Amazon, iTunes | lyrics + more >> |
| | SOS-28 | When Worlds Collide | | lyrics + more >> |
| | SOS-27 | Muswell Hillbilly | Amazon, iTunes | lyrics + more >> |
| | SOS-26 | Bright Sunny South | iTunes | lyrics + more >> |
| | SOS-25 | Origin Of Species | iTunes | lyrics + more >> |
| | SOS-24 | Fair And Tender Ladies | | lyrics + more >> |
| | SOS-23 | The Butterfly | Amazon, iTunes | lyrics + more >> |
| | SOS-22 | I'll Be Your Santa Baby | Amazon, iTunes | lyrics + more >> |
| | SOS-21 | Sporting Nell, My Sweetheart Jan | Amazon, iTunes | lyrics + more >> |
| | SOS-20 | The Quail Song | | lyrics + more >> |
| | SOS-19 | Rock The Cradle | Amazon, iTunes | lyrics + more >> |
| | SOS-18 | There'll Be No Distinction There | Amazon, iTunes | lyrics + more >> |
| | SOS-17 | Brother Can You Spare A Dime? | Amazon, iTunes | lyrics + more >> |
| | SOS-16 | Six Days On The Road | Amazon, iTunes | lyrics + more >> |
| | SOS-15 | Sleepy Eyed Joe | Amazon, iTunes | lyrics + more >> |
| | SOS-14 | At The Ball, That's All | iTunes, Amazon | lyrics + more >> |
| | SOS-13 | Jimmy Brown The Blues Boy | iTunes, Amazon | lyrics + more >> |
| | SOS-12 | Go Down To The Water | iTunes, Amazon | lyrics + more >> |
| | SOS-11 | Keith In A Palm Tree | iTunes, Amazon | lyrics + more >> |
| | SOS-10 | Careless Love | iTunes, Amazon | lyrics + more >> |
| | SOS-09 | The Farmer's Cursed Wife | iTunes, Amazon | lyrics + more >> |
| | SOS-08.1 | My Home Is Across The Blue Ridge Mountains | Amazon, iTunes | lyrics + more >> |
| | SOS-08 | Dance You Hippy Dance | iTunes, Amazon | lyrics + more >> |
| | SOS-07 | Sugar Hill | iTunes, Amazon | lyrics + more >> |
| | SOS-06 | The Tulips On The Table | iTunes, Amazon | lyrics + more >> |
| | SOS-05 | I Wish My Love Was A Red, Red Rose | iTunes, Amazon | lyrics + more >> |
| | SOS-04 | Waiting On Tomorrow | iTunes, Amazon | lyrics + more >> |
| | SOS-03 | Get Up Offa That Thing | iTunes, Amazon | lyrics + more >> |
| | SOS-02 | Ditty Boy Twang | iTunes, Amazon | lyrics + more >> |
| | SOS-01 | Brush My Teeth With Coca-Cola | iTunes, Amazon | lyrics + more >> |