Brush My Teeth With Coca-Cola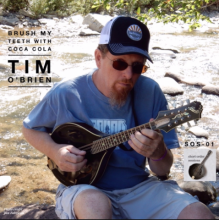 Lyrics:
Brush My Teeth With Coca-Cola
@2014 Tim O'Brien / No Bad Ham Music / ASCAP
Chorus:
I brush my teeth with Coca-Cola, wash my face with mountain dew
We live down in chemical valley, licorice water runnin' through,
Licorice water runnin' through
I know politicians care about me, lobbyists love me the same
Jesus lord is watchin' over but I don't trust that EPA
I don't trust that EPA
Chorus
MCHM stands for methylcyclohexane methanol
Now the catfish in Elk River drink the stuff that cleans our coal
They drink the stuff that cleans our coal
Chorus
All is money, all is power, one man's loss is another's gain
I just do the best I can, put out my bucket, pray for rain
Put out the bucket and pray for rain
Chorus
I know king coal will keep my lights on, Union Carbide pays my bills
Still it's better regulate than never, meet with Manchin on the hill
Senator Manchin on the hill
Chorus
Once we were Almost Heaven, now we're open for business
That's the place that I call home, West Virginia
Credits:
Recorded May 13th, 2014 at the Butcher Shoppe, Nashville
Engineer David Ferguson
Tim O'Brien – vocal, acoustic and electric guitar
Kathy Mattea – harmony vocal
Mike Bub – bass
Kenny Malone – drums
Chris Scruggs – steel guitar
Colin O'Brien – banjo
Chemical Choir: Jan Fabricius, David Ferguson, Mike Bub, Kenny Malone, Todd Burge– background vocals
Song notes:
On January 9th 2014, some ten thousand gallons of MCHM (4-methylcyclohexane methanol, a chemical bath for coal) spilled into the Elk River upstream from Charleston WV's water treatment plant, resulting in contamination of the water supply for over 300K people. The governor warned folks not to drink, cook, wash, or bath with their licorice smelling tap water. Meanwhile the tainted water had flowed downstream into the Ohio, causing the Cincinnati water treatment plant to close its intakes and shift to emergency reserves. Upstream in WV, hospital emergency rooms dealt with increasing cases of skin rashes, eye irritation, nausea, anxiety and migraines. It took six weeks before residents were given the all clear to drink and bath with the water from their faucets, but problems persisted. Meanwhile, between underground mines, mountaintop removal, and fracking, well water has also become more and more suspect.
I read the story with interest, and soon friends in my home state of West Virginia were talking once again about the chronic problem of slack enforcement of environmental safety regulations in the state. At the end of April, a woman approached me at the Merlefest merch table and gave me a copy of the New Yorker magazine containing an article on the spill. She said, "Someone needs to write a song about this. Please do it." I read and studied and scratched my head for a few weeks. Then I remembered Eddie Stubbs, back in the '80s, telling me about traveling with the Johnson Mountain Boys in Africa. He said, "Tim, the water was so bad there, we had to brush our teeth with Coca-Cola." Linking Eddie's description of bad water to the recent spill in Charleston was all I needed to jump-start this song.
Read the New Yorker article "Chemical Valley" here: http://www.newyorker.com/magazine/2014/04/07/chemical-valley
All proceeds from this inaugural Short Order Sessions track will benefit AWARE, Artists Working in Alliance to Restore the Environment. AWARE's statement of purpose is: to raise awareness of environmental issues and raise money to distribute to existing environmental organizations in West Virginia.
www.awarewv.org, www.facebook.com/awarewv).
I had already been approached by friends in WV about the need for songs to sing, and so I was glad to come up with this ditty and the motto:
Better regulate than never!
| | Catalog | | Buy Link(s) | |
| --- | --- | --- | --- | --- |
| | SOS-40 | The Polling Place | iTunes, Spotify | lyrics + more >> |
| | SOS-39 | Bluegrass Meadow | | lyrics + more >> |
| | SOS-38 | Poor Little Darlin' | Amazon, iTunes | lyrics + more >> |
| | SOS-37 | Sweet Georgia Brown | Amazon, iTunes | lyrics + more >> |
| | SOS-36 | John Henry | Amazon, iTunes | lyrics + more >> |
| | SOS-35 | Greensleeves | Amazon, iTunes | lyrics + more >> |
| | SOS-34 | When Women Get In Power | Amazon, iTunes | lyrics + more >> |
| | SOS-33 | I'll Still Write Your Name In The Sand | iTunes | lyrics + more >> |
| | SOS-32 | Three Thin Dimes | Amazon, iTunes | lyrics + more >> |
| | SOS-31 | The Drunkard's Walk | iTunes | lyrics + more >> |
| | SOS-30 | Mass Rock | Amazon, iTunes | lyrics + more >> |
| | SOS-29 | Money To Burn | Amazon, iTunes | lyrics + more >> |
| | SOS-28 | When Worlds Collide | | lyrics + more >> |
| | SOS-27 | Muswell Hillbilly | Amazon, iTunes | lyrics + more >> |
| | SOS-26 | Bright Sunny South | iTunes | lyrics + more >> |
| | SOS-25 | Origin Of Species | iTunes | lyrics + more >> |
| | SOS-24 | Fair And Tender Ladies | | lyrics + more >> |
| | SOS-23 | The Butterfly | Amazon, iTunes | lyrics + more >> |
| | SOS-22 | I'll Be Your Santa Baby | Amazon, iTunes | lyrics + more >> |
| | SOS-21 | Sporting Nell, My Sweetheart Jan | Amazon, iTunes | lyrics + more >> |
| | SOS-20 | The Quail Song | | lyrics + more >> |
| | SOS-19 | Rock The Cradle | Amazon, iTunes | lyrics + more >> |
| | SOS-18 | There'll Be No Distinction There | Amazon, iTunes | lyrics + more >> |
| | SOS-17 | Brother Can You Spare A Dime? | Amazon, iTunes | lyrics + more >> |
| | SOS-16 | Six Days On The Road | Amazon, iTunes | lyrics + more >> |
| | SOS-15 | Sleepy Eyed Joe | Amazon, iTunes | lyrics + more >> |
| | SOS-14 | At The Ball, That's All | iTunes, Amazon | lyrics + more >> |
| | SOS-13 | Jimmy Brown The Blues Boy | iTunes, Amazon | lyrics + more >> |
| | SOS-12 | Go Down To The Water | iTunes, Amazon | lyrics + more >> |
| | SOS-11 | Keith In A Palm Tree | iTunes, Amazon | lyrics + more >> |
| | SOS-10 | Careless Love | iTunes, Amazon | lyrics + more >> |
| | SOS-09 | The Farmer's Cursed Wife | iTunes, Amazon | lyrics + more >> |
| | SOS-08.1 | My Home Is Across The Blue Ridge Mountains | Amazon, iTunes | lyrics + more >> |
| | SOS-08 | Dance You Hippy Dance | iTunes, Amazon | lyrics + more >> |
| | SOS-07 | Sugar Hill | iTunes, Amazon | lyrics + more >> |
| | SOS-06 | The Tulips On The Table | iTunes, Amazon | lyrics + more >> |
| | SOS-05 | I Wish My Love Was A Red, Red Rose | iTunes, Amazon | lyrics + more >> |
| | SOS-04 | Waiting On Tomorrow | iTunes, Amazon | lyrics + more >> |
| | SOS-03 | Get Up Offa That Thing | iTunes, Amazon | lyrics + more >> |
| | SOS-02 | Ditty Boy Twang | iTunes, Amazon | lyrics + more >> |
| | SOS-01 | Brush My Teeth With Coca-Cola | iTunes, Amazon | lyrics + more >> |