Sleepy Eyed Joe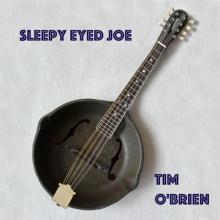 Sleepy Eyed Joe
Traditional arrangement Zeke Hutchison and Tim O'Brien / No Bad Ham Music / ASCAP
Credits:
Recorded April 16th 2015 at the Butcher Shoppe
Engineered by David Ferguson
Zeke Hutchison – mandolin
Tim O'Brien - guitar
Song Notes:
Zeke Hutchison, from Belmont County Ohio, is one of the very best unsung mandolin players in the world. He comes by the music naturally, having grown up hearing his father Robert and uncle J.D. play banjo and guitar. As the Hutchison Brothers they recorded two bluegrass albums for Vetco records in the mid 1970's. J.D. and Robert learned music from their father J.W. Hutchison who was a fine fiddler. I have a tape of J.W. playing this tune with J.D. on guitar, probably recorded in their Barnesville living room.
The Hutchison Brothers were some of the best bluegrass players in the Wheeling area. I often sat in with them on guitar and fiddle, and I recorded a few tracks with them on their second LP. Hot Rize eventually recorded three of J.D. songs – Ain't I Been Good To You, My Little Darlin', and Money To Burn. If you're persistent, you can find recordings by J.D. and Realbilly Jive or hear him live near his Athens OH home.
Zeke was visiting Nashville for a few days in April and dropped by a studio mix session. He had his mandolin so we played a few tunes and Ferg recorded this one. You can look Zeke up at www.zekesfancy.com, or www.facebook.com/zekesfancy, and you can take a lesson from him at Blue Eagle Music in Athens OH.
| | Catalog | | Buy Link(s) | |
| --- | --- | --- | --- | --- |
| | SOS-40 | The Polling Place | iTunes, Spotify | lyrics + more >> |
| | SOS-39 | Bluegrass Meadow | | lyrics + more >> |
| | SOS-38 | Poor Little Darlin' | Amazon, iTunes | lyrics + more >> |
| | SOS-37 | Sweet Georgia Brown | Amazon, iTunes | lyrics + more >> |
| | SOS-36 | John Henry | Amazon, iTunes | lyrics + more >> |
| | SOS-35 | Greensleeves | Amazon, iTunes | lyrics + more >> |
| | SOS-34 | When Women Get In Power | Amazon, iTunes | lyrics + more >> |
| | SOS-33 | I'll Still Write Your Name In The Sand | iTunes | lyrics + more >> |
| | SOS-32 | Three Thin Dimes | Amazon, iTunes | lyrics + more >> |
| | SOS-31 | The Drunkard's Walk | iTunes | lyrics + more >> |
| | SOS-30 | Mass Rock | Amazon, iTunes | lyrics + more >> |
| | SOS-29 | Money To Burn | Amazon, iTunes | lyrics + more >> |
| | SOS-28 | When Worlds Collide | | lyrics + more >> |
| | SOS-27 | Muswell Hillbilly | Amazon, iTunes | lyrics + more >> |
| | SOS-26 | Bright Sunny South | iTunes | lyrics + more >> |
| | SOS-25 | Origin Of Species | iTunes | lyrics + more >> |
| | SOS-24 | Fair And Tender Ladies | | lyrics + more >> |
| | SOS-23 | The Butterfly | Amazon, iTunes | lyrics + more >> |
| | SOS-22 | I'll Be Your Santa Baby | Amazon, iTunes | lyrics + more >> |
| | SOS-21 | Sporting Nell, My Sweetheart Jan | Amazon, iTunes | lyrics + more >> |
| | SOS-20 | The Quail Song | | lyrics + more >> |
| | SOS-19 | Rock The Cradle | Amazon, iTunes | lyrics + more >> |
| | SOS-18 | There'll Be No Distinction There | Amazon, iTunes | lyrics + more >> |
| | SOS-17 | Brother Can You Spare A Dime? | Amazon, iTunes | lyrics + more >> |
| | SOS-16 | Six Days On The Road | Amazon, iTunes | lyrics + more >> |
| | SOS-15 | Sleepy Eyed Joe | Amazon, iTunes | lyrics + more >> |
| | SOS-14 | At The Ball, That's All | iTunes, Amazon | lyrics + more >> |
| | SOS-13 | Jimmy Brown The Blues Boy | iTunes, Amazon | lyrics + more >> |
| | SOS-12 | Go Down To The Water | iTunes, Amazon | lyrics + more >> |
| | SOS-11 | Keith In A Palm Tree | iTunes, Amazon | lyrics + more >> |
| | SOS-10 | Careless Love | iTunes, Amazon | lyrics + more >> |
| | SOS-09 | The Farmer's Cursed Wife | iTunes, Amazon | lyrics + more >> |
| | SOS-08.1 | My Home Is Across The Blue Ridge Mountains | Amazon, iTunes | lyrics + more >> |
| | SOS-08 | Dance You Hippy Dance | iTunes, Amazon | lyrics + more >> |
| | SOS-07 | Sugar Hill | iTunes, Amazon | lyrics + more >> |
| | SOS-06 | The Tulips On The Table | iTunes, Amazon | lyrics + more >> |
| | SOS-05 | I Wish My Love Was A Red, Red Rose | iTunes, Amazon | lyrics + more >> |
| | SOS-04 | Waiting On Tomorrow | iTunes, Amazon | lyrics + more >> |
| | SOS-03 | Get Up Offa That Thing | iTunes, Amazon | lyrics + more >> |
| | SOS-02 | Ditty Boy Twang | iTunes, Amazon | lyrics + more >> |
| | SOS-01 | Brush My Teeth With Coca-Cola | iTunes, Amazon | lyrics + more >> |