Bright Sunny South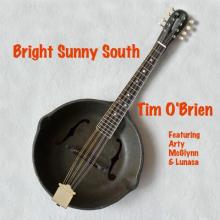 SOS #27 Release date 3/4/16
Bright Sunny South - traditional arrangement Tim O'Brien/No Bad Ham Music /ASCAP
In the bright sunny south in peace and content
The days of my boyhood I scarcely had spent
From the deep flowing springs to the broad flowing streams
Ever dear to my memory and sweet is my dream
I leave my confinement and comfort of life
For the dangers of bloodshed, provision and strife
I come to conclude and reply with my word
As I shoulder my musket and billet my sword
My father looked sad as he begged me not to part
And my mother embraced me with anguish of heart
And my beautiful sister looked pale in her woe
As she grabbed me and blessed me and told me to go
Dear father dear father for me do not weep
For on some high mountain I mean for to sleep
And the danger of war I intend for to share
For sickness and death I intend to prepare
Dear mother dear mother for me do not weep
For a mother's kind words I ever will keep
You have taught me to be brave from a boy to a man
And I'm going in defense of our own native land
Dear sister dear sister I cannot tell the woe
For your tears and your sorrow they trouble me so
I must be a going for here I cannot stand
I am going in defense of my own native land
Credits:
Recorded January 26 to February, 16, 2016
Engineered by Cameron Malcom at Traquair Mill Studios in Peeblesshire Scotland, Trevor Hutchinson at his Dublin studio, Cillian Vallely at his New York City home, and by Sean Sullivan at the Butcher Shoppe in Nashville
Tim O'Brien – vocal, mandolin, banjo, fiddle
Arty McGlynn – guitar
Trevor Hutchinson – bass
Cillian Vallely – uilleann pipes
Kevin Crawford – flute
Song Notes:
This Civil War era song is often associated with Southwest Virginia banjo blues balladeer Dock Boggs, who first recorded for Brunswick Records in the late 1920's. Rediscovered by Mike Seeger in 1963, Boggs soon recorded this piece for a Folkways LP that was released in 1964. Bright Sunny South tells the story of a young man leaving his home at wartime.
After a few nights performing at the Celtic Connections festival in Glasgow, Arty McGlynn and I spent a day in John McCusker's studio in the Scottish Borders. This is one of the songs we recorded, and I soon sent it to my friends Cillian Vallely, Trevor Hutchinson, and Kevin Crawford from the Irish band Lunasa. They added their sounds to the track from studios in Dublin and New York. When I got home from my UK tour I got in the studio to thread it back together, added fiddle, and then mixed it. Not an especially short order, but it's quick enough to come out while I'm actually on tour with Lunasa! Check our websites for concert listings through March 20. - Tim
| | Catalog | | Buy Link(s) | |
| --- | --- | --- | --- | --- |
| | SOS-40 | The Polling Place | iTunes, Spotify | lyrics + more >> |
| | SOS-39 | Bluegrass Meadow | | lyrics + more >> |
| | SOS-38 | Poor Little Darlin' | Amazon, iTunes | lyrics + more >> |
| | SOS-37 | Sweet Georgia Brown | Amazon, iTunes | lyrics + more >> |
| | SOS-36 | John Henry | Amazon, iTunes | lyrics + more >> |
| | SOS-35 | Greensleeves | Amazon, iTunes | lyrics + more >> |
| | SOS-34 | When Women Get In Power | Amazon, iTunes | lyrics + more >> |
| | SOS-33 | I'll Still Write Your Name In The Sand | iTunes | lyrics + more >> |
| | SOS-32 | Three Thin Dimes | Amazon, iTunes | lyrics + more >> |
| | SOS-31 | The Drunkard's Walk | iTunes | lyrics + more >> |
| | SOS-30 | Mass Rock | Amazon, iTunes | lyrics + more >> |
| | SOS-29 | Money To Burn | Amazon, iTunes | lyrics + more >> |
| | SOS-28 | When Worlds Collide | | lyrics + more >> |
| | SOS-27 | Muswell Hillbilly | Amazon, iTunes | lyrics + more >> |
| | SOS-26 | Bright Sunny South | iTunes | lyrics + more >> |
| | SOS-25 | Origin Of Species | iTunes | lyrics + more >> |
| | SOS-24 | Fair And Tender Ladies | | lyrics + more >> |
| | SOS-23 | The Butterfly | Amazon, iTunes | lyrics + more >> |
| | SOS-22 | I'll Be Your Santa Baby | Amazon, iTunes | lyrics + more >> |
| | SOS-21 | Sporting Nell, My Sweetheart Jan | Amazon, iTunes | lyrics + more >> |
| | SOS-20 | The Quail Song | | lyrics + more >> |
| | SOS-19 | Rock The Cradle | Amazon, iTunes | lyrics + more >> |
| | SOS-18 | There'll Be No Distinction There | Amazon, iTunes | lyrics + more >> |
| | SOS-17 | Brother Can You Spare A Dime? | Amazon, iTunes | lyrics + more >> |
| | SOS-16 | Six Days On The Road | Amazon, iTunes | lyrics + more >> |
| | SOS-15 | Sleepy Eyed Joe | Amazon, iTunes | lyrics + more >> |
| | SOS-14 | At The Ball, That's All | iTunes, Amazon | lyrics + more >> |
| | SOS-13 | Jimmy Brown The Blues Boy | iTunes, Amazon | lyrics + more >> |
| | SOS-12 | Go Down To The Water | iTunes, Amazon | lyrics + more >> |
| | SOS-11 | Keith In A Palm Tree | iTunes, Amazon | lyrics + more >> |
| | SOS-10 | Careless Love | iTunes, Amazon | lyrics + more >> |
| | SOS-09 | The Farmer's Cursed Wife | iTunes, Amazon | lyrics + more >> |
| | SOS-08.1 | My Home Is Across The Blue Ridge Mountains | Amazon, iTunes | lyrics + more >> |
| | SOS-08 | Dance You Hippy Dance | iTunes, Amazon | lyrics + more >> |
| | SOS-07 | Sugar Hill | iTunes, Amazon | lyrics + more >> |
| | SOS-06 | The Tulips On The Table | iTunes, Amazon | lyrics + more >> |
| | SOS-05 | I Wish My Love Was A Red, Red Rose | iTunes, Amazon | lyrics + more >> |
| | SOS-04 | Waiting On Tomorrow | iTunes, Amazon | lyrics + more >> |
| | SOS-03 | Get Up Offa That Thing | iTunes, Amazon | lyrics + more >> |
| | SOS-02 | Ditty Boy Twang | iTunes, Amazon | lyrics + more >> |
| | SOS-01 | Brush My Teeth With Coca-Cola | iTunes, Amazon | lyrics + more >> |