Brother Can You Spare A Dime?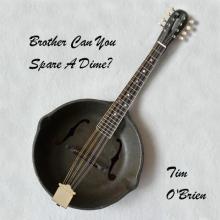 Release date 9/18/2015
Brother Can You Spare A Dime
Lyrics:
Brother Can You Spare A Dime
by Jay Gorney and Yip Harburg / Next Decade Music o/b/o Gorney Music / Next Decade Entertainment Inc. o/b/o Glocca Morra Music / ASCAP
They used to tell me I was building a dream
And so I followed the mob
When there was earth to plow or guns to bear
I was always there right on the job
They used to tell me I was building a dream
With peace and glory ahead
Why should I be standing in line
Just waiting for bread
Once I built a railroad, I made it run
Made it race against time
Once I built a railroad, now it's done
Brother can you spare a dime
Once I built a tower up to the sun
Brick and rivet and lime
Once I built a tower, now it's done
Brother can you spare a dime
Once in khaki suits, gee we looked swell
Full of that Yankee-doodly-dum
Half a million boots went slogging through hell
And I was the kid with the drum
Say, don't you remember, they called me "Al"
It was "Al" all the time
Why don't you remember, I'm your pal
Say buddy, can you spare a dime
Credits:
Recorded early 2003 at Minutia
Engineered and mixed by Gary Paczosa
Tim O'Brien – guitar and vocal
Stuart Duncan – mandolin and fiddle
Dennis Crouch – bass
Song Notes:
If Yip Harburg had only written this one lyric, his place of honor in songwriting history would still be significant. The weighty sentiment and detail within these few lines really nail the story of a shattered American dream. It's one of my very favorite songs.
Harburg, the son of Russian Jewish immigrants, grew up in New York City, and started a life long friendship with George Gershwin when they worked together on their high school newspaper. As a Socialist, he moved to Uruguay during World War I to avoid military service. After the war he started writing light verse for New York City newspapers, later co-owning a successful electrical supply company, which went bust after the 1929 stock market crash. He soon began collaborating, at the urging of Ira Gershwin, as lyricist with composer Jay Gorney. Together they wrote songs and whole musical plays, including the 1932 Broadway show Americana, which included the song Brother Can You Spare A Dime. Later recorded by Bing Crosby, Rudy Vallee, and Al Jolson, the song became the indelible theme song of the Great Depression. Harburg's illustrious career included work with composers Harold Arlen and Jerome Kern for Broadway shows and Hollywood movies like Cabin In The Sky and Finian's Rainbow. He won an Academy award in 1940 for his song Somewhere Over The Rainbow from the movie The Wizard of Oz, and wrote the lyrics of all the songs as well as much of the dialogue. Yarburg was later blacklisted by the House Un-American Activities Committee from 1950 to 1962.
My recording came about when CMH records asked me to record some Depression era songs for a compilation titled Oh Brother Can You Spare A Dime, which aimed to capitalize on the massive success of the Coen Brothers movie O Brother, Where Art Thou? and its hit soundtrack. Another song from the same session, Blind Alfred Reed's There'll Be No Distinction There, is coming in a few weeks on SOS.
https://itunes.apple.com/us/album/brother-can-you-spare-dime/id1037597181
http://amzn.com/B014YVE1U0
| | Catalog | | Buy Link(s) | |
| --- | --- | --- | --- | --- |
| | SOS-40 | The Polling Place | iTunes, Spotify | lyrics + more >> |
| | SOS-39 | Bluegrass Meadow | | lyrics + more >> |
| | SOS-38 | Poor Little Darlin' | Amazon, iTunes | lyrics + more >> |
| | SOS-37 | Sweet Georgia Brown | Amazon, iTunes | lyrics + more >> |
| | SOS-36 | John Henry | Amazon, iTunes | lyrics + more >> |
| | SOS-35 | Greensleeves | Amazon, iTunes | lyrics + more >> |
| | SOS-34 | When Women Get In Power | Amazon, iTunes | lyrics + more >> |
| | SOS-33 | I'll Still Write Your Name In The Sand | iTunes | lyrics + more >> |
| | SOS-32 | Three Thin Dimes | Amazon, iTunes | lyrics + more >> |
| | SOS-31 | The Drunkard's Walk | iTunes | lyrics + more >> |
| | SOS-30 | Mass Rock | Amazon, iTunes | lyrics + more >> |
| | SOS-29 | Money To Burn | Amazon, iTunes | lyrics + more >> |
| | SOS-28 | When Worlds Collide | | lyrics + more >> |
| | SOS-27 | Muswell Hillbilly | Amazon, iTunes | lyrics + more >> |
| | SOS-26 | Bright Sunny South | iTunes | lyrics + more >> |
| | SOS-25 | Origin Of Species | iTunes | lyrics + more >> |
| | SOS-24 | Fair And Tender Ladies | | lyrics + more >> |
| | SOS-23 | The Butterfly | Amazon, iTunes | lyrics + more >> |
| | SOS-22 | I'll Be Your Santa Baby | Amazon, iTunes | lyrics + more >> |
| | SOS-21 | Sporting Nell, My Sweetheart Jan | Amazon, iTunes | lyrics + more >> |
| | SOS-20 | The Quail Song | | lyrics + more >> |
| | SOS-19 | Rock The Cradle | Amazon, iTunes | lyrics + more >> |
| | SOS-18 | There'll Be No Distinction There | Amazon, iTunes | lyrics + more >> |
| | SOS-17 | Brother Can You Spare A Dime? | Amazon, iTunes | lyrics + more >> |
| | SOS-16 | Six Days On The Road | Amazon, iTunes | lyrics + more >> |
| | SOS-15 | Sleepy Eyed Joe | Amazon, iTunes | lyrics + more >> |
| | SOS-14 | At The Ball, That's All | iTunes, Amazon | lyrics + more >> |
| | SOS-13 | Jimmy Brown The Blues Boy | iTunes, Amazon | lyrics + more >> |
| | SOS-12 | Go Down To The Water | iTunes, Amazon | lyrics + more >> |
| | SOS-11 | Keith In A Palm Tree | iTunes, Amazon | lyrics + more >> |
| | SOS-10 | Careless Love | iTunes, Amazon | lyrics + more >> |
| | SOS-09 | The Farmer's Cursed Wife | iTunes, Amazon | lyrics + more >> |
| | SOS-08.1 | My Home Is Across The Blue Ridge Mountains | Amazon, iTunes | lyrics + more >> |
| | SOS-08 | Dance You Hippy Dance | iTunes, Amazon | lyrics + more >> |
| | SOS-07 | Sugar Hill | iTunes, Amazon | lyrics + more >> |
| | SOS-06 | The Tulips On The Table | iTunes, Amazon | lyrics + more >> |
| | SOS-05 | I Wish My Love Was A Red, Red Rose | iTunes, Amazon | lyrics + more >> |
| | SOS-04 | Waiting On Tomorrow | iTunes, Amazon | lyrics + more >> |
| | SOS-03 | Get Up Offa That Thing | iTunes, Amazon | lyrics + more >> |
| | SOS-02 | Ditty Boy Twang | iTunes, Amazon | lyrics + more >> |
| | SOS-01 | Brush My Teeth With Coca-Cola | iTunes, Amazon | lyrics + more >> |