I'll Be Your Santa Baby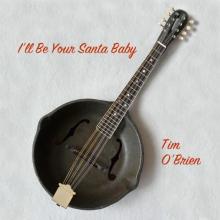 "I'll Be Your Santa Baby", not to be confused with Rufus Thomas's song of the same name, this track written by Tim O'Brien features Ray Bonneville on harmonica and Kevin Gordon on guitar. A guaranteed antidote to velvet string sections and massive chorus vocals, it cuts through your holiday cheese, and it's like an extra shot in your eggnog.
Lyrics:
I'll Be Your Santa Baby by Tim O'Brien / No Bad Ham Music / ASCAP
Chorus:
I'll be your Santa baby, try me on this year
You give me milk and cookies, I'll give you Christmas cheer
I'll be your Santa baby, I'll make your holiday
From the night before Christmas to the dawn of New Year's Day
I'll light your Christmas candle, I'll decorate your tree
The list is growin' longer, all the gifts you'll get from me
Just leave your chestnuts roasting on an open fire
I may be a fat man but I can take you higher
Chorus
The kids are all grown up now, livin' in other towns
We'll do whatever we want to do with no one else around
We can watch a bowl game on our big TV
Eat leftover turkey and pumpkin pie with me
Chorus
On the night before Christmas I'll dress up in red
I'll bring my Christmas package, I'll tuck you into bed
I won't bring no reindeer, I won't drive a sleigh
Don't need no Santa's helper to love you Christmas day
I'll recycle all the cardboard, wrapping paper too
I'll write and send the thank-you notes, no tellin' what I'll do
I'll love you through the seasons, you'll be glad I came
Christmas comes but once a year, but I am not the same
Chorus
Credits:
Recorded October 27, 2015 at The Butcher Shoppe, Nashville
Engineer – Sean Sullivan
Tim O'Brien – guitar, bass, and vocal
Ray Bonneville – harmonica
Kevin Gordon – electric guitar
Song Notes:
Gather around your loved ones and cut through the holiday cheese with this naughty Christmas song.
I've known Ray Bonneville since 1974 when he was living in Boulder CO. I've followed his migration to Alaska to New Orleans to Montreal and finally to Austin where he lives now. He was passing through Nashville in late October and stayed with Jan and me overnight. The next morning he planned to get together with our mutual friend Kevin Gordon for coffee and a visit, after which he would start the drive home. I got them to come by the Butcher Shoppe instead, and we tracked this song.
Check out Ray's and Kevin's fine recordings and go see them live. Ray's latest CD is Easy Gone (www.raybonneville.com) and Kevin's new CD is Long Gone Time (www.kevingordon.net). - Tim
https://itunes.apple.com/us/album/ill-be-your-santa-baby-single/id106185...
http://amzn.com/B018G46O9W
| | Catalog | | Buy Link(s) | |
| --- | --- | --- | --- | --- |
| | SOS-40 | The Polling Place | iTunes, Spotify | lyrics + more >> |
| | SOS-39 | Bluegrass Meadow | | lyrics + more >> |
| | SOS-38 | Poor Little Darlin' | Amazon, iTunes | lyrics + more >> |
| | SOS-37 | Sweet Georgia Brown | Amazon, iTunes | lyrics + more >> |
| | SOS-36 | John Henry | Amazon, iTunes | lyrics + more >> |
| | SOS-35 | Greensleeves | Amazon, iTunes | lyrics + more >> |
| | SOS-34 | When Women Get In Power | Amazon, iTunes | lyrics + more >> |
| | SOS-33 | I'll Still Write Your Name In The Sand | iTunes | lyrics + more >> |
| | SOS-32 | Three Thin Dimes | Amazon, iTunes | lyrics + more >> |
| | SOS-31 | The Drunkard's Walk | iTunes | lyrics + more >> |
| | SOS-30 | Mass Rock | Amazon, iTunes | lyrics + more >> |
| | SOS-29 | Money To Burn | Amazon, iTunes | lyrics + more >> |
| | SOS-28 | When Worlds Collide | | lyrics + more >> |
| | SOS-27 | Muswell Hillbilly | Amazon, iTunes | lyrics + more >> |
| | SOS-26 | Bright Sunny South | iTunes | lyrics + more >> |
| | SOS-25 | Origin Of Species | iTunes | lyrics + more >> |
| | SOS-24 | Fair And Tender Ladies | | lyrics + more >> |
| | SOS-23 | The Butterfly | Amazon, iTunes | lyrics + more >> |
| | SOS-22 | I'll Be Your Santa Baby | Amazon, iTunes | lyrics + more >> |
| | SOS-21 | Sporting Nell, My Sweetheart Jan | Amazon, iTunes | lyrics + more >> |
| | SOS-20 | The Quail Song | | lyrics + more >> |
| | SOS-19 | Rock The Cradle | Amazon, iTunes | lyrics + more >> |
| | SOS-18 | There'll Be No Distinction There | Amazon, iTunes | lyrics + more >> |
| | SOS-17 | Brother Can You Spare A Dime? | Amazon, iTunes | lyrics + more >> |
| | SOS-16 | Six Days On The Road | Amazon, iTunes | lyrics + more >> |
| | SOS-15 | Sleepy Eyed Joe | Amazon, iTunes | lyrics + more >> |
| | SOS-14 | At The Ball, That's All | iTunes, Amazon | lyrics + more >> |
| | SOS-13 | Jimmy Brown The Blues Boy | iTunes, Amazon | lyrics + more >> |
| | SOS-12 | Go Down To The Water | iTunes, Amazon | lyrics + more >> |
| | SOS-11 | Keith In A Palm Tree | iTunes, Amazon | lyrics + more >> |
| | SOS-10 | Careless Love | iTunes, Amazon | lyrics + more >> |
| | SOS-09 | The Farmer's Cursed Wife | iTunes, Amazon | lyrics + more >> |
| | SOS-08.1 | My Home Is Across The Blue Ridge Mountains | Amazon, iTunes | lyrics + more >> |
| | SOS-08 | Dance You Hippy Dance | iTunes, Amazon | lyrics + more >> |
| | SOS-07 | Sugar Hill | iTunes, Amazon | lyrics + more >> |
| | SOS-06 | The Tulips On The Table | iTunes, Amazon | lyrics + more >> |
| | SOS-05 | I Wish My Love Was A Red, Red Rose | iTunes, Amazon | lyrics + more >> |
| | SOS-04 | Waiting On Tomorrow | iTunes, Amazon | lyrics + more >> |
| | SOS-03 | Get Up Offa That Thing | iTunes, Amazon | lyrics + more >> |
| | SOS-02 | Ditty Boy Twang | iTunes, Amazon | lyrics + more >> |
| | SOS-01 | Brush My Teeth With Coca-Cola | iTunes, Amazon | lyrics + more >> |