I'll Still Write Your Name In The Sand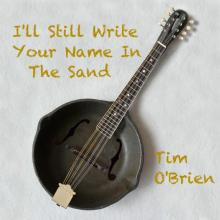 I'll Still Write Your Name In The Sand
Lyrics:
I'll Still Write Your Name In The Sand by Oby Edgar Starcher / Glasser Music / BMI
It's been many years since we were childhood sweethearts
Blissful days I'll never forget
And you know I still love you little darlin'
Though the years bring me only regret
Oh I love you my darlin' how I love you
If I talk please try to understand
Makes no difference how you treat me I love you
And I still write your name in the sand
Through the long lonely years I have loved you
And I've waited but only in vain
Now I know that I've lost you my darlin'
But I'll still sing the same old refrain
Oh I love you my darlin' how I love you
If I talk please try to understand
Makes no difference how you treat me I love you
And I still write your name in the sand
Now I know that your heart is for another
And it grieves me more than I can stand
Though I've lost the only one that I care for
I will still write your name in the sand
Oh I love you my darlin' how I love you
If I talk please try to understand
Makes no difference how you treat me I love you
And I still write your name in the sand
Credits:
Recorded June 29th, 2016 at the Butcher Shoppe, Nashville
Engineered by David Ferguson
Tim O'Brien – mandolin and vocal
Mike Bub – bass
Jan Fabricius - vocal
David Grier – guitar
Noam Pikelny - banjo
Song Notes:
Oby Edgar "Buddy" Starcher was born March 16, 1906 in Ripley, West Virginia. A veteran radio performer starting in the late 1920's, he wrote a few protest songs for the Bonus Army marchers in 1932, bounced around over the years, and eventually hosted a live television show in Charleston WV from 1960 to 1966. In 1966 he had a minor hit with a song co-written with Minnie Pearl called History Repeats Itself, which drew parallels between the Lincoln and Kennedy presidencies. His best-known composition is I'll Still Write Your Name In The Sand, which he recorded and released as a single on the independent Four Star label in 1949. Last year Starcher was inducted posthumously into the West Virginia Music Hall of Fame. At the ceremony, several noted WV musicians remembered Starcher's generosity in welcoming them on his live morning TV show. Mac Wiseman, who worked with Starcher on radio in Harrisonburg VA, is the artist most responsible for making I'll Still Write Your Name In The Sand well known. Mac's recording on DOT and his live performances of it eventually made the song into what we call a "Bluegrass hit" – meaning it's sung worldwide at festival campground jams.
Shad Cobb's fiddle solo here is a real delight, and everyone involved did a wonderful job. David Grier marveled afterward about how easy it was to cut the track. Maybe it helped that I was born, like the song's composer, on March 16, but it probably has more to do with our all having grown up playing the song.
| | Catalog | | Buy Link(s) | |
| --- | --- | --- | --- | --- |
| | SOS-40 | The Polling Place | iTunes, Spotify | lyrics + more >> |
| | SOS-39 | Bluegrass Meadow | | lyrics + more >> |
| | SOS-38 | Poor Little Darlin' | Amazon, iTunes | lyrics + more >> |
| | SOS-37 | Sweet Georgia Brown | Amazon, iTunes | lyrics + more >> |
| | SOS-36 | John Henry | Amazon, iTunes | lyrics + more >> |
| | SOS-35 | Greensleeves | Amazon, iTunes | lyrics + more >> |
| | SOS-34 | When Women Get In Power | Amazon, iTunes | lyrics + more >> |
| | SOS-33 | I'll Still Write Your Name In The Sand | iTunes | lyrics + more >> |
| | SOS-32 | Three Thin Dimes | Amazon, iTunes | lyrics + more >> |
| | SOS-31 | The Drunkard's Walk | iTunes | lyrics + more >> |
| | SOS-30 | Mass Rock | Amazon, iTunes | lyrics + more >> |
| | SOS-29 | Money To Burn | Amazon, iTunes | lyrics + more >> |
| | SOS-28 | When Worlds Collide | | lyrics + more >> |
| | SOS-27 | Muswell Hillbilly | Amazon, iTunes | lyrics + more >> |
| | SOS-26 | Bright Sunny South | iTunes | lyrics + more >> |
| | SOS-25 | Origin Of Species | iTunes | lyrics + more >> |
| | SOS-24 | Fair And Tender Ladies | | lyrics + more >> |
| | SOS-23 | The Butterfly | Amazon, iTunes | lyrics + more >> |
| | SOS-22 | I'll Be Your Santa Baby | Amazon, iTunes | lyrics + more >> |
| | SOS-21 | Sporting Nell, My Sweetheart Jan | Amazon, iTunes | lyrics + more >> |
| | SOS-20 | The Quail Song | | lyrics + more >> |
| | SOS-19 | Rock The Cradle | Amazon, iTunes | lyrics + more >> |
| | SOS-18 | There'll Be No Distinction There | Amazon, iTunes | lyrics + more >> |
| | SOS-17 | Brother Can You Spare A Dime? | Amazon, iTunes | lyrics + more >> |
| | SOS-16 | Six Days On The Road | Amazon, iTunes | lyrics + more >> |
| | SOS-15 | Sleepy Eyed Joe | Amazon, iTunes | lyrics + more >> |
| | SOS-14 | At The Ball, That's All | iTunes, Amazon | lyrics + more >> |
| | SOS-13 | Jimmy Brown The Blues Boy | iTunes, Amazon | lyrics + more >> |
| | SOS-12 | Go Down To The Water | iTunes, Amazon | lyrics + more >> |
| | SOS-11 | Keith In A Palm Tree | iTunes, Amazon | lyrics + more >> |
| | SOS-10 | Careless Love | iTunes, Amazon | lyrics + more >> |
| | SOS-09 | The Farmer's Cursed Wife | iTunes, Amazon | lyrics + more >> |
| | SOS-08.1 | My Home Is Across The Blue Ridge Mountains | Amazon, iTunes | lyrics + more >> |
| | SOS-08 | Dance You Hippy Dance | iTunes, Amazon | lyrics + more >> |
| | SOS-07 | Sugar Hill | iTunes, Amazon | lyrics + more >> |
| | SOS-06 | The Tulips On The Table | iTunes, Amazon | lyrics + more >> |
| | SOS-05 | I Wish My Love Was A Red, Red Rose | iTunes, Amazon | lyrics + more >> |
| | SOS-04 | Waiting On Tomorrow | iTunes, Amazon | lyrics + more >> |
| | SOS-03 | Get Up Offa That Thing | iTunes, Amazon | lyrics + more >> |
| | SOS-02 | Ditty Boy Twang | iTunes, Amazon | lyrics + more >> |
| | SOS-01 | Brush My Teeth With Coca-Cola | iTunes, Amazon | lyrics + more >> |