The Drunkard's Walk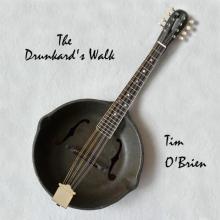 SOS#31 Release date 08/19/2016
The Drunkard's Walk by J.D. Hutchison / J.D. Hutchison Music /BMI
lyrics:
Tell me brother tell me
It's so hard to understand
Why you forsake your life to be
A drunken hearted man, a drunken hearted man
High life and demon alcohol
Have ruined many men
Tell me my brother
Would you be one of them, would you be one of them
Your family that loves you
Prays for you day and night
You treat them like a stranger
And you shun their good advice, you shun their good advice
Your mouth is full of promises
Just so much empty talk
Your heart is with the bottle
And the lonesome drunkard's walk, the lonesome drunkard's walk
When this earthly span has ended
Each must walk alone
To enter darker regions
Or rise to worlds unknown, or rise to worlds unknown
Credits:
Recorded May 9, 2016 at the Butcher Shoppe, Nashville
Sean Sullivan engineer
Tim O'Brien – vocal and mandola
Song notes:
Another fine true-life song from my old friend and hero J.D. Hutchison. This one has a traditional bluegrass gospel feel, though the message of warming is more brotherly than heavenly. I accompany my voice with a wonderful mandola made by Michael Kemnitzer of Nugget mandolins. Nugget and J.D. are old friends too. They met in the early 1970's in Athens Ohio, where Mike was studying art and was blowing glass. J.D. renamed him Nugget because he was a smallish guy with reddish hair, and he also told him he should make mandolins. Thanks J.D. and thanks Nugget!
Jan Fabricius brought her camera to the session and made a video while I recorded. That's Conway Twitty and his band playing behind me. Silently.
Video Link: https://youtu.be/nbf04pslMpk
Mandolin players will notice in the video that I seem to be playing in D but the music is actually in G. That's because mandolas are tuned one fifth lower. That means mandolin players can make music on them but also that they can easily forget what key they're in! Mandolas are to mandolins what violas are to violins, and musicians make the same kind of jokes about people who play them. Here's one: Q) What's the difference between a frog and a mandola player? A) The frog might actually be headed to a gig.
Followers of SOS will know that I've recently recorded two other J.D. Hutchison songs and that his first recording in 15 years is in the making. Release on Howdy Skies records is coming soon, and he's playing a big CD release party on September 24 in Marietta OH, along with his band Realbilly Jive, Jan Fabricius, and myself.
For tickets: http://peoplesbanktheatre.com/event/obrien-hutchison
A crowd sourcing campaign to fund J.D.'s recording ends in a week, so if you like this music, please help at:
www.indiegogo.com/projects/jd-hutchison-realbilly-jive-music#
| | Catalog | | Buy Link(s) | |
| --- | --- | --- | --- | --- |
| | SOS-40 | The Polling Place | iTunes, Spotify | lyrics + more >> |
| | SOS-39 | Bluegrass Meadow | | lyrics + more >> |
| | SOS-38 | Poor Little Darlin' | Amazon, iTunes | lyrics + more >> |
| | SOS-37 | Sweet Georgia Brown | Amazon, iTunes | lyrics + more >> |
| | SOS-36 | John Henry | Amazon, iTunes | lyrics + more >> |
| | SOS-35 | Greensleeves | Amazon, iTunes | lyrics + more >> |
| | SOS-34 | When Women Get In Power | Amazon, iTunes | lyrics + more >> |
| | SOS-33 | I'll Still Write Your Name In The Sand | iTunes | lyrics + more >> |
| | SOS-32 | Three Thin Dimes | Amazon, iTunes | lyrics + more >> |
| | SOS-31 | The Drunkard's Walk | iTunes | lyrics + more >> |
| | SOS-30 | Mass Rock | Amazon, iTunes | lyrics + more >> |
| | SOS-29 | Money To Burn | Amazon, iTunes | lyrics + more >> |
| | SOS-28 | When Worlds Collide | | lyrics + more >> |
| | SOS-27 | Muswell Hillbilly | Amazon, iTunes | lyrics + more >> |
| | SOS-26 | Bright Sunny South | iTunes | lyrics + more >> |
| | SOS-25 | Origin Of Species | iTunes | lyrics + more >> |
| | SOS-24 | Fair And Tender Ladies | | lyrics + more >> |
| | SOS-23 | The Butterfly | Amazon, iTunes | lyrics + more >> |
| | SOS-22 | I'll Be Your Santa Baby | Amazon, iTunes | lyrics + more >> |
| | SOS-21 | Sporting Nell, My Sweetheart Jan | Amazon, iTunes | lyrics + more >> |
| | SOS-20 | The Quail Song | | lyrics + more >> |
| | SOS-19 | Rock The Cradle | Amazon, iTunes | lyrics + more >> |
| | SOS-18 | There'll Be No Distinction There | Amazon, iTunes | lyrics + more >> |
| | SOS-17 | Brother Can You Spare A Dime? | Amazon, iTunes | lyrics + more >> |
| | SOS-16 | Six Days On The Road | Amazon, iTunes | lyrics + more >> |
| | SOS-15 | Sleepy Eyed Joe | Amazon, iTunes | lyrics + more >> |
| | SOS-14 | At The Ball, That's All | iTunes, Amazon | lyrics + more >> |
| | SOS-13 | Jimmy Brown The Blues Boy | iTunes, Amazon | lyrics + more >> |
| | SOS-12 | Go Down To The Water | iTunes, Amazon | lyrics + more >> |
| | SOS-11 | Keith In A Palm Tree | iTunes, Amazon | lyrics + more >> |
| | SOS-10 | Careless Love | iTunes, Amazon | lyrics + more >> |
| | SOS-09 | The Farmer's Cursed Wife | iTunes, Amazon | lyrics + more >> |
| | SOS-08.1 | My Home Is Across The Blue Ridge Mountains | Amazon, iTunes | lyrics + more >> |
| | SOS-08 | Dance You Hippy Dance | iTunes, Amazon | lyrics + more >> |
| | SOS-07 | Sugar Hill | iTunes, Amazon | lyrics + more >> |
| | SOS-06 | The Tulips On The Table | iTunes, Amazon | lyrics + more >> |
| | SOS-05 | I Wish My Love Was A Red, Red Rose | iTunes, Amazon | lyrics + more >> |
| | SOS-04 | Waiting On Tomorrow | iTunes, Amazon | lyrics + more >> |
| | SOS-03 | Get Up Offa That Thing | iTunes, Amazon | lyrics + more >> |
| | SOS-02 | Ditty Boy Twang | iTunes, Amazon | lyrics + more >> |
| | SOS-01 | Brush My Teeth With Coca-Cola | iTunes, Amazon | lyrics + more >> |