Three Thin Dimes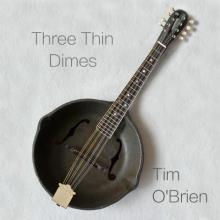 Three Thin Dimes – by J.W. Hutchison / J.D. Hutchison Music / BMI
Credits:
Recorded June 29th, 2016 at the Butcher Shoppe, Nashville
Engineered by David Ferguson
Tim O'Brien – mandolin
Mike Bub – bass
David Grier – guitar
Noam Pikelny - banjo
Song Notes:
I first heard this tune as played by the Hutchison Brothers band on their fine Vetco Records release back in about 1976 or so. John and Zeke Hutchison's father wrote the tune and taught it to the band's fiddler Greg Dearth. I stayed with J.W. and his wife Emma Jane once or twice. J.W. was retired by then and spent his early mornings with a room full of fiddles, a cup of coffee, and a cigar. He loved all kinds of music and was proud of where his boys took the music. The band on this track is a fine bunch of old friends. I wish J.W. could have been around to hear Shad Cobb fiddle his tune.
| | Catalog | | Buy Link(s) | |
| --- | --- | --- | --- | --- |
| | SOS-40 | The Polling Place | iTunes, Spotify | lyrics + more >> |
| | SOS-39 | Bluegrass Meadow | | lyrics + more >> |
| | SOS-38 | Poor Little Darlin' | Amazon, iTunes | lyrics + more >> |
| | SOS-37 | Sweet Georgia Brown | Amazon, iTunes | lyrics + more >> |
| | SOS-36 | John Henry | Amazon, iTunes | lyrics + more >> |
| | SOS-35 | Greensleeves | Amazon, iTunes | lyrics + more >> |
| | SOS-34 | When Women Get In Power | Amazon, iTunes | lyrics + more >> |
| | SOS-33 | I'll Still Write Your Name In The Sand | iTunes | lyrics + more >> |
| | SOS-32 | Three Thin Dimes | Amazon, iTunes | lyrics + more >> |
| | SOS-31 | The Drunkard's Walk | iTunes | lyrics + more >> |
| | SOS-30 | Mass Rock | Amazon, iTunes | lyrics + more >> |
| | SOS-29 | Money To Burn | Amazon, iTunes | lyrics + more >> |
| | SOS-28 | When Worlds Collide | | lyrics + more >> |
| | SOS-27 | Muswell Hillbilly | Amazon, iTunes | lyrics + more >> |
| | SOS-26 | Bright Sunny South | iTunes | lyrics + more >> |
| | SOS-25 | Origin Of Species | iTunes | lyrics + more >> |
| | SOS-24 | Fair And Tender Ladies | | lyrics + more >> |
| | SOS-23 | The Butterfly | Amazon, iTunes | lyrics + more >> |
| | SOS-22 | I'll Be Your Santa Baby | Amazon, iTunes | lyrics + more >> |
| | SOS-21 | Sporting Nell, My Sweetheart Jan | Amazon, iTunes | lyrics + more >> |
| | SOS-20 | The Quail Song | | lyrics + more >> |
| | SOS-19 | Rock The Cradle | Amazon, iTunes | lyrics + more >> |
| | SOS-18 | There'll Be No Distinction There | Amazon, iTunes | lyrics + more >> |
| | SOS-17 | Brother Can You Spare A Dime? | Amazon, iTunes | lyrics + more >> |
| | SOS-16 | Six Days On The Road | Amazon, iTunes | lyrics + more >> |
| | SOS-15 | Sleepy Eyed Joe | Amazon, iTunes | lyrics + more >> |
| | SOS-14 | At The Ball, That's All | iTunes, Amazon | lyrics + more >> |
| | SOS-13 | Jimmy Brown The Blues Boy | iTunes, Amazon | lyrics + more >> |
| | SOS-12 | Go Down To The Water | iTunes, Amazon | lyrics + more >> |
| | SOS-11 | Keith In A Palm Tree | iTunes, Amazon | lyrics + more >> |
| | SOS-10 | Careless Love | iTunes, Amazon | lyrics + more >> |
| | SOS-09 | The Farmer's Cursed Wife | iTunes, Amazon | lyrics + more >> |
| | SOS-08.1 | My Home Is Across The Blue Ridge Mountains | Amazon, iTunes | lyrics + more >> |
| | SOS-08 | Dance You Hippy Dance | iTunes, Amazon | lyrics + more >> |
| | SOS-07 | Sugar Hill | iTunes, Amazon | lyrics + more >> |
| | SOS-06 | The Tulips On The Table | iTunes, Amazon | lyrics + more >> |
| | SOS-05 | I Wish My Love Was A Red, Red Rose | iTunes, Amazon | lyrics + more >> |
| | SOS-04 | Waiting On Tomorrow | iTunes, Amazon | lyrics + more >> |
| | SOS-03 | Get Up Offa That Thing | iTunes, Amazon | lyrics + more >> |
| | SOS-02 | Ditty Boy Twang | iTunes, Amazon | lyrics + more >> |
| | SOS-01 | Brush My Teeth With Coca-Cola | iTunes, Amazon | lyrics + more >> |