Rock The Cradle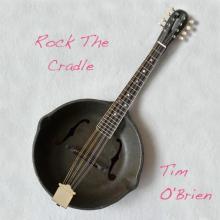 Release date 10/16/2015Rock The Cradle
Lyrics:
Rock The Cradle – music / traditional / lyrics Tim O'Brien / No Bad Ham Music / ASCAP
Old Man Luedecke's got three girls
Each one the prettiest thing in the world
Hush little baby don't you cry
You'll be an angel bye and bye
Rock the cradle Dede, rock the cradle Miena
Rock the cradle Annabelle
Coffee in the pot, bacon in the pan
We're goin' skatin' that's our plan
Girl's real quiet playin' upstairs
Fingernail polish is runnin' through their hair
Rock the cradle Dede, rock the cradle Mina
Rock the cradle Annabelle
Mama needs a break, a little glass of wine
Hangin' with the grown-ups a big old time
Makin' a record in the cabin below
Springtime in Chester, three feet of snow
Rock the cradle Dede, rock the cradle Mina
Rock the cradle Annabelle
Credits:
Recorded March 11, 2015 at Old Man Luedecke's cabin, Chester, Nova Scotia
Engineered by John D.S. Adams
Mixed and mastered by John D.S. Adams at Stonehouse Sound
Tim O'Brien – fiddle and vocal
Jan Fabricius – mandolin
Chris Luedecke - banjo
Song notes:
Last March, Jan and I spent a week in Chester, Nova Scotia for the production of Old Man Luedecke's CD Domestic Eccentric. There was three feet of snow on the ground, and we made the 200 yard commute from Chris Luedecke's home and his garage apartment guest quarters via an icy path that had been cleared by a back hoe a few days before our arrival. In between sessions we hung out with Chris, his wife Teresa, and their twins Cordelia and Wilhemina (Dee Dee and Mina, 4 years old) and younger daughter Annabelle (18 months old). After we recorded and edited all the CD tracks, we found an hour to put together this ditty for SOS. For a look at the girls, check out his Early Days video at www.oldmanluedecke.ca.
I love Chris's songs and singing and his recordings. We met several years ago in England, traveling together on a little mini tour, and since have worked on three of his CD productions. Domestic Eccentric features mostly duets – me and him playing live in his cabin - with a few trios. And we're touring together later this month and into November, so come see us!
| | Catalog | | Buy Link(s) | |
| --- | --- | --- | --- | --- |
| | SOS-40 | The Polling Place | iTunes, Spotify | lyrics + more >> |
| | SOS-39 | Bluegrass Meadow | | lyrics + more >> |
| | SOS-38 | Poor Little Darlin' | Amazon, iTunes | lyrics + more >> |
| | SOS-37 | Sweet Georgia Brown | Amazon, iTunes | lyrics + more >> |
| | SOS-36 | John Henry | Amazon, iTunes | lyrics + more >> |
| | SOS-35 | Greensleeves | Amazon, iTunes | lyrics + more >> |
| | SOS-34 | When Women Get In Power | Amazon, iTunes | lyrics + more >> |
| | SOS-33 | I'll Still Write Your Name In The Sand | iTunes | lyrics + more >> |
| | SOS-32 | Three Thin Dimes | Amazon, iTunes | lyrics + more >> |
| | SOS-31 | The Drunkard's Walk | iTunes | lyrics + more >> |
| | SOS-30 | Mass Rock | Amazon, iTunes | lyrics + more >> |
| | SOS-29 | Money To Burn | Amazon, iTunes | lyrics + more >> |
| | SOS-28 | When Worlds Collide | | lyrics + more >> |
| | SOS-27 | Muswell Hillbilly | Amazon, iTunes | lyrics + more >> |
| | SOS-26 | Bright Sunny South | iTunes | lyrics + more >> |
| | SOS-25 | Origin Of Species | iTunes | lyrics + more >> |
| | SOS-24 | Fair And Tender Ladies | | lyrics + more >> |
| | SOS-23 | The Butterfly | Amazon, iTunes | lyrics + more >> |
| | SOS-22 | I'll Be Your Santa Baby | Amazon, iTunes | lyrics + more >> |
| | SOS-21 | Sporting Nell, My Sweetheart Jan | Amazon, iTunes | lyrics + more >> |
| | SOS-20 | The Quail Song | | lyrics + more >> |
| | SOS-19 | Rock The Cradle | Amazon, iTunes | lyrics + more >> |
| | SOS-18 | There'll Be No Distinction There | Amazon, iTunes | lyrics + more >> |
| | SOS-17 | Brother Can You Spare A Dime? | Amazon, iTunes | lyrics + more >> |
| | SOS-16 | Six Days On The Road | Amazon, iTunes | lyrics + more >> |
| | SOS-15 | Sleepy Eyed Joe | Amazon, iTunes | lyrics + more >> |
| | SOS-14 | At The Ball, That's All | iTunes, Amazon | lyrics + more >> |
| | SOS-13 | Jimmy Brown The Blues Boy | iTunes, Amazon | lyrics + more >> |
| | SOS-12 | Go Down To The Water | iTunes, Amazon | lyrics + more >> |
| | SOS-11 | Keith In A Palm Tree | iTunes, Amazon | lyrics + more >> |
| | SOS-10 | Careless Love | iTunes, Amazon | lyrics + more >> |
| | SOS-09 | The Farmer's Cursed Wife | iTunes, Amazon | lyrics + more >> |
| | SOS-08.1 | My Home Is Across The Blue Ridge Mountains | Amazon, iTunes | lyrics + more >> |
| | SOS-08 | Dance You Hippy Dance | iTunes, Amazon | lyrics + more >> |
| | SOS-07 | Sugar Hill | iTunes, Amazon | lyrics + more >> |
| | SOS-06 | The Tulips On The Table | iTunes, Amazon | lyrics + more >> |
| | SOS-05 | I Wish My Love Was A Red, Red Rose | iTunes, Amazon | lyrics + more >> |
| | SOS-04 | Waiting On Tomorrow | iTunes, Amazon | lyrics + more >> |
| | SOS-03 | Get Up Offa That Thing | iTunes, Amazon | lyrics + more >> |
| | SOS-02 | Ditty Boy Twang | iTunes, Amazon | lyrics + more >> |
| | SOS-01 | Brush My Teeth With Coca-Cola | iTunes, Amazon | lyrics + more >> |