Little Lamb Little Lamb - Single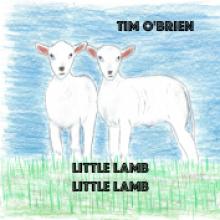 New bluegrass original "Little Lamb Little Lamb" from Tim O'Brien!
Written last spring and recorded in December, the track features O'Brien on guitar and lead vocal with longtime band members Mike Bub (bass), Shad Cobb (fiddle), Jan Fabricius (mandolin and vocal), and Cory Walker (banjo). With lyrics contrasting the joyful rebirth of spring with the narrator's advancing age, the track is a preview of O'Brien's upcoming full release "Cup of Sugar", which drops June 16th, 2023.
Little Lamb Little Lamb - Lyrics
©2022 Tim O'Brien / No Bad Ham Music / admin by Bluewater / ASCAP
Little Lamb little lamb looks like spring came back around
On the hillside you're jumping up and down
Lifts my heart up to see you scamper once again
You wouldn't understand little lamb little lamb
The winter's long, it's gets so dark and cold
It reminds me how I keep on getting old
I was young once, I won't be young again
You wouldn't understand little lamb little lamb
It's just like magic how the seasons come and go
Reassures me in a way you'll never know
Living and dying walk along hand in hand
You wouldn't understand little lamb little lamb
Little Lamb little lamb looks like spring came back around
On the hillside you're jumping up and down
Lifts my heart up to see you scamper once again
You wouldn't understand little lamb little lamb
Sheep dog watching keeping you in line
Your mama too, she sees you're doing fine
A year will go by, this'll happen once again
You wouldn't understand little lamb little lamb
Little Lamb, little lamb looks like spring came back around
On the hillside you're jumping up and down
Lifts my heart up to see you scamper once again
You wouldn't understand little lamb little lamb